Product Description
Akodi manufactures heavy duty electric reach stackers for busy and high demand warehouses. The 2 ton electric reach forklift truck is more powerful and can get your operator from point a to point b more quickly. This narrow aisle reach forklift is also easy to do maintenance: side-pull battery, and controlled with self-diagnosis function. The AC motor has a small number of components. Wearing parts are durable and requires almost no maintenance. It can help you reduce overall costs and your operator will feel confident to drive this truck. Other lift heights are available. Please contact us.
Features and Benefits:
#1. Main mast made by high strength channel steel and rugged construction: stability, safety, and flexible operation.
#2. The most advanced vertical AC drive system: greater braking torque, more power, and better acceleration
#3. CURTIS AC controller & high power MOSFET: increased efficiency, low noise, stepless speed, thermal protection and stable output
#4. Side-pull battery: replacing battery quickly and more conveniently, improving work efficiency
#5. Standard high-speed limit device: safety feature. When the mast reaches certain height, the driving speed is automatically reduced.
#6. Hydraulic brake of front wheel and rear wheel, the brake of drive motor controlled by electronic systems: Effectively start, break, and accelerate
#7. Controller with self-diagnosis function: fault code display, quickly and easily troubleshooting
#8. Power brake while releasing handle or pressure to the bottom: ensure operator`s safety
#9. Electric power steering (EPS): operation will feel less fatigue and increase productivity
Why working with Akodi is beneficial?
Our vision is to achieve Win-Win situation. We will provide solutions to meet our client`s market demands/requirements. Our priority is safety for all our cost-effective material handling equipment.
In addition, we offer great promotion for our first-time clients. We have loyalty program for our long-term clients. We also provide 24/7 after-sales support to make sure your business keeps moving.
Contact our friendly specialist today for our cooperation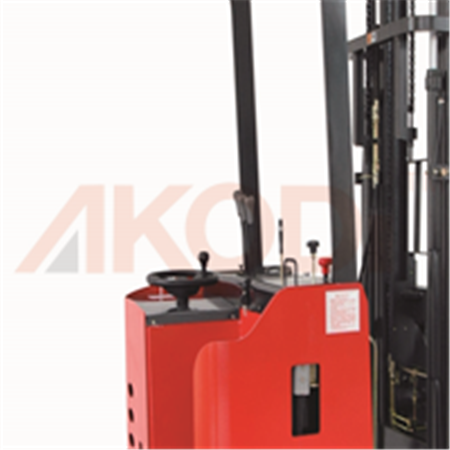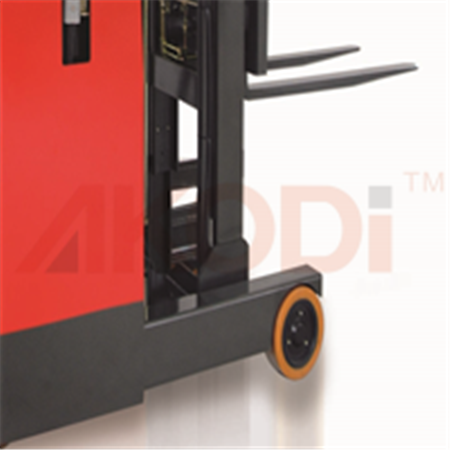 Measurement/ Model

Q2030GB

Q1530GB

Capacity

kg

2000

1500

Max. lift height

mm

3000

3000

Load center

mm

500

500

Max. weight at highest point

kg

1450

1100

Tires




PU

PU

Front wheel size, number

mm

φ250*120, 2

φ250*120, 2

Rear wheel size, number

mm

φ380*122, 1

φ380*122, 1

Balance wheel, number

mm

φ178/73, 2

φ178/73, 2

Overall width

mm

1168

1168

Overall length (1150mm fork)

mm

2350

2350

Overall collapsed height

mm

2044

2080

Overall extended height

mm

3840

3840

Mast forward/ backward angle




3/5⁰

3/5⁰

Lowest fork height

mm

40

35

Fork size L*W*T

mm

950*120*40

950*100*35

Adjustable width over fork

mm

240 ~775

200 ~775

Reach distance

mm

570

570

Turning radius

mm

1875

1875

Max travel speed, laden/ unladen

km/h

8.5/9.0

8.5/9.0

Max lift speed,laden/ unladen

mm/s

290/480

290/480

Max lowering speed, laden/ unladen

mm/ s

250/270

250/270

Max Gradient performance, full load/ no load

%

10/15

10/15

Driving motor




6.8kw, AC

6.0kw, AC

Lift motor




10kw

8.2kw

Battery capacity

V/A

48V/500Ah

48V/420Ah

Weight

Kg

2250

2150

Battery weight

Kg

800

700
FAQ
1. Can I place a mixed order?
Yes, we can take a mixed order for different product lines. For example, 6 units of hand pallet jack, 2 units of electric pallet truck, and 1 unit of electric reach forklift.
2. How long is the warranty for Akodi product?
Akodi provides 18 months or 1500 hours limited warranty for our essential parts of both manual and electric products from on-board time.
3. Can Akodi manufacture customized products, OEM, or ODM?
Yes, we can make customized products such as low-profile hand pallet jack, long hand pallet jack, etc.
OEM is acceptable. Our engineering team can also design non-standard products as per request.
4. How about the delivery time?
It usually takes 15-20 working days once we receive advanced payment. We will work with our client for urgent order to meet their deadline.
5. Can we request our own color for the products?
Yes, please provide us RAL code.
6. What`s MOQ?
The minimum order quantity can be as low as one unit. Price will depend on quantity ordered.