Product Description
This heavy duty semi-electric stacker is popular in many Asian countries. Since it has 3 ton capacity, it will be idea for heavy goods or heavy pallets. The removable masts and forks feature of this semi electric forklift also give the benefits of reducing the trouble of repair and maintenance. The material handling semi-electric stacker can be back to work in shorter time.
Semi-electric Stacker Video: http://www.akodiforklift.com/video/5001.html
Semi-electric Stacker Features and Benefits:
1. High power lift motor: smooth lifting and lowering, cost-effective
2. Forklift mast wheel, sprocket, chain, and bearings: increased work efficiency, eliminating costly repair
3. Parking brake: steady operation, ensured personnel safety
4. Removable masts and forks: lowering logistics costs, easy to repair and maintenance
5. Emergency stop: improves operator safety
6. Optional: adjustable front legs
Why working with Akodi is beneficial?
Our vision is to achieve Win-Win situation. We will provide solutions to meet our client`s market demands/requirements. Our priority is safety for all our cost-effective material handling equipment.
In addition, we offer great promotion for our first-time clients. We have loyalty program for our long-term clients. We also provide 24/7 after-sales support to make sure your business keeps moving.
Contact our friendly specialist today for our cooperation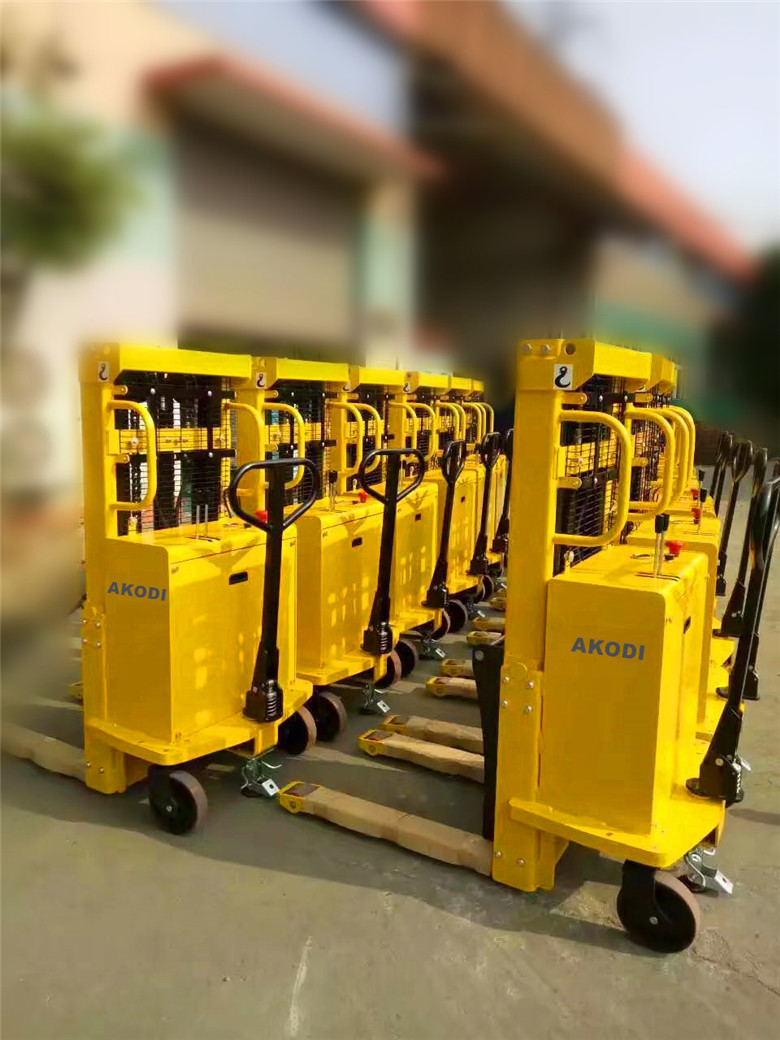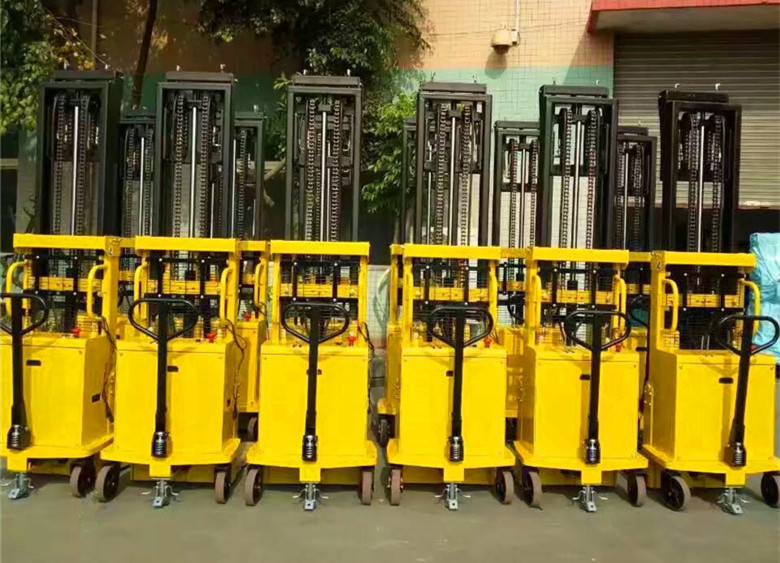 Measurement/ Model

AKCDSD10

AKCDSD20

AKCDSD30

Capacity (Q)

Kg

1000

2000

3000

Load center (C)

mm

500

500

500

Turning radius (Wr)

mm

1350

1350

1350

Max. lift height (h)

mm

1600/2000/2500

1600/2000/2500

1600

Min. height (h1)

mm

80

80

80

Fork size

mm

1070*160*62

1070*160*62

1070*122*40

Fork outer width

mm

680

680

680

Fork min. height

mm

25

25

25

Overall width (b1)

mm

780

780

780

Overall length (L)

mm

1655

1655

1655

Overall height (h4)

mm

2055/1575/1825

2055/1575/1825

2055

Battery capacity

V/A

12 V/105 Ah

12 V/105 Ah

12 V/105 Ah

Charger

V/A

DC 12V/15 A (Internal)

DC 12V/15 A (Internal)

DC 12V/ 15 A (Internal)

Driving Method




Walk

Walk

Walk

weight

Kg

350-420

420-500

520
FAQ
1. Can I place a mixed order?
Yes, we can take a mixed order for different product lines. For example, 6 units of hand pallet jack, 2 units of electric pallet truck, and 1 unit of electric reach forklift.
2. How long is the warranty for Akodi product?
Akodi provides 18 months or 1500 hours limited warranty for our essential parts of both manual and electric products from on-board time.
3. Can Akodi manufacture customized products, OEM, or ODM?
Yes, we can make customized products such as low-profile hand pallet jack, long hand pallet jack, etc.
OEM is acceptable. Our engineering team can also design non-standard products as per request.
4. How about the delivery time?
It usually takes 15-20 working days once we receive advanced payment. We will work with our client for urgent order to meet their deadline.
5. Can we request our own color for the products?
Yes, please provide us RAL code.
6. What`s MOQ?
The minimum order quantity can be as low as one unit. Price will depend on quantity ordered.